Cleverin space disinfection sanitizer pen type
Portable type against viruses and germs that are  floating in crowded places such as offices, schools and hospitals. You can always carry it near you everyday.

A portable stick-type cleveline.
It removes viruses and bacteria floating in the space with the power of chlorine dioxide * Confirmed the removal of specific "floating viruses and bacteria" with chlorine dioxide in a closed space. (Taiko Pharmaceutical research)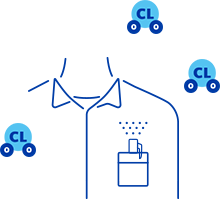 Please use it in the train/bus, office, hospital, school
How to use

1. Open the bag, take out the stick, and bend it until you hear a click.
2. Shake it up and down several times before inserting it in the case.
3. Attach it to your chest pocket or the name holder. Replace with a new stick after about 2 weeks.


---
We Also Recommend
---