Cleverin space disinfection sanitizer pen type
$18.00

$18.00

Save

$2.00
Tax included.
Shipping
🚚 Worldwide Shipping
.
---
---
Portable type against viruses and germs that are  floating in crowded places such as offices, schools and hospitals. You can always carry it near you everyday.

A portable stick-type cleveline.
It removes viruses and bacteria floating in the space with the power of chlorine dioxide * Confirmed the removal of specific "floating viruses and bacteria" with chlorine dioxide in a closed space. (Taiko Pharmaceutical research)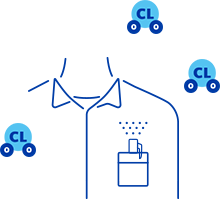 Please use it in the train/bus, office, hospital, school
How to use

1. Open the bag, take out the stick, and bend it until you hear a click.
2. Shake it up and down several times before inserting it in the case.
3. Attach it to your chest pocket or the name holder. Replace with a new stick after about 2 weeks.


---
We Also Recommend
---